About Paston Heritage Society
The Paston Footprints project featured on these pages is a joint project between the Paston Heritage Society and the University of East Anglia. Paston Footprints will continue through to the end of 2021; Paston Heritage Society will continue to seek to fulfil its aims. It is most grateful to the National Heritage Lottery Fund for its support for the Paston Footprints project, which we trust has brought the story to thousands and will continue to do so for the years ahead.
The aims of the Paston Heritage Society are:
To preserve Paston Church as a centre for both physical and spiritual refreshment for residents and pilgrims.
To aid research into the history of Paston and the Paston family.
To seek actively to introduce a new generation of local historians to their heritage.
To promote events that unite the community of Paston.
Membership of the Paston Heritage Society.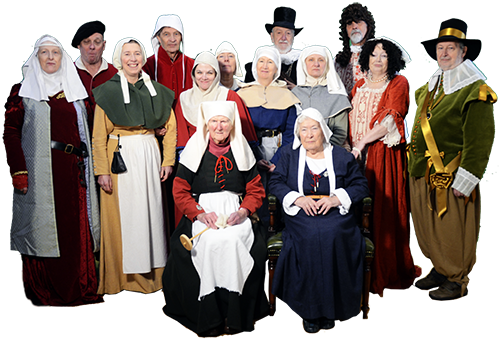 Dressing in period costume is not compulsory for membership of the Paston Heritage Society!
)embership is open to everyone interested in Paston and the Paston family - resident or non-resident, of any faith and of any degree of expertise in history! We welcome every offer of help.
Members receive Newsletters to update them on progress in the work of restoring buildings at Paston and news of events held by the Society. We are most grateful for your support and interest.
One of our aims is to provide visitors with a centre to meet physical needs and to offer a permanent display to show how far our research has got, and to introduce the history of Paston and the Paston family.
We are very aware that the church is a place of worship, and we hope that we can introduce its history as part of a living and not a dead community.
Membership is £15 a year. Members receive a regular newletter and opportunities to take part in special events free or at a reduced rate.

Application forms are available from membership secretary:
Carole Martin
c/o 2, Station Road,
North Walsham
NR28 0AE.
Or e-mail her at carole35martin@gmail.com