The Pastons and Mannington Hall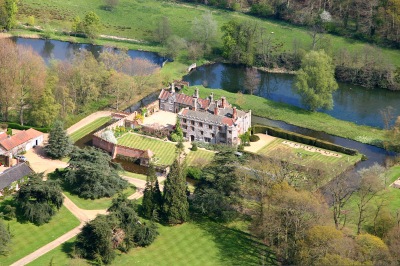 Mannington is mentioned in the Domesday book of 1086, the name then being Manctura. An ancient house is known to have been on the site in 1291, eventually coming into the possession of Maude Turrell, by her own right one-time lord of the manor. Her second husband was one Henry Lumnor, and their grandson, also Henry, held it in 1401. His son William owned it and then in turn his son, again William. That William decided to rebuild the house as the building we know today.
Oak timbers from Saxthorpe
This William Lumnor of Mannington Hall was a very good friend and supporter of John and Margaret Paston. In return, John Paston supplied oak timbers from his Saxthorpe estate for the building of Mannington Hall in the 1460s. The Paston Letters contain many warm references to William Lumnor, who often provided the family with advice and helpful lobbying on their behalf.

One of John Paston's sons, Edmund, married William Lumnor's widow, Margaret. Margaret is buried in nearby Itteringham Church.
The size of the fine
In the Civil War of the 17th century, Sir John Potts, the new owner of Mannington Hall and a leading Parliamentarian, dealt considerately with negotiations concerning the Royalists William and Margaret Paston of Oxnead. Lady Margaret wrote to Sir John Potts to negotiate the size of the fine the Pastons had to pay for retaining ownership of their property. Later, Sir William Paston wrote from exile in Holland to Sir John, to agree the terms for Sir William's return to England.
In the 18th Century, Horace Walpole, nephew to Horatio Walpole – the new owner of Mannington – greatly encouraged John Fenn of Dereham to publish the Paston Letters. The letters have passed though various hands, but today we acknowledge John Fenn as the man who did most to bring them to national recognition through their publication in five volumes.
All other letters not worth reading

Such was Horace Walpole's enthusiasm that he declared that the Paston Letters collection "makes all other letters not worth reading". In 1782 he had already told Walpole that "the historic picture they give of the reign of Hen 6 [Henry VIth] makes them invaluable, & more satisfactory than any cold narrative [of the period]. It were a thousand pities they should not be published, which I should be glad I could persuade you to do." It is in a letter of Walpole to Fenn, written on 7th May 1784, that we find the first use of the term "Paston Letters".
Delightful gardens and country walks
Today Mannington Hall remains the home of Lord Walpole and his family. The country walks are open every day from 9am to dusk; for these walks there is a charge for the car park. The delightful gardens are open on Sundays between 12 noon and 5 pm; in June, July, and August the gardens are also open on Thursdays and Fridays between 11am and 5pm, with a full range of facilities available. Hall tours are by special arrangement, or are available at specific dates and times. For full details and prices go to the Mannington Estate website.
As a part of the Paston Footprints 600 project a cycle route has been developed, starting and finishing at the Hall.