Teaching with the Pastons
You'll find within this section of the web site a range of approaches to using the Paston family in the teaching of history - at all ages and across a range of subjects.
At the youngest end of the scale, members of the Paston family will introduce themselves through cartoon characters. They'll go on to take part in stories which have been designed to open up their world; with each story comes supporting notes for teachers and a range of ideas for classroom use. Where appropriate, we include pointers to materials on this site and on other appropriate web pages through active links. If you're following these pages in the United Kingdom, you'll be familiar with the KS (Key Stage) markings, KS1 being for the 5-7 years olds and KS2 for the 8-11 years olds.
We include links to teaching ideas for the secondary age range. The Paston Letters and associated documents are one of our primary sources for late medieval times and the later Paston Letters spread through the 17th century, the era of the English Civil War, the Grand Tour and the Restoration. If you'd like to see a report on an inspirational lesson for Sixth Formers on the Wars of the Roses, then the Eastern Daily Press carried a full report.
For students working at a higher level, we are working on bringing together the whole of the available Paston canon for the first time. The medieval letters are probably the most familiar, but working with the Norfolk Record Office we can add the 17th century letters, and in most cases we can provide the chance to work with the original documents. A note at this point to say that the site has been put together by volunteers of the Paston Heritage Society, working with the University of East Anglia, and we recommend that at higher levels students also consult the works of the principal Paston Letter authorities. We hope that we are gradually providing further ways into their considerable and authoritative writings, and you'll find a page about those writers and researchers in the Letters section.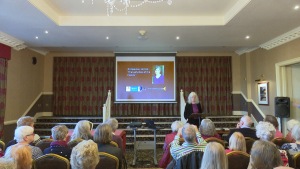 At our October 2019 conference, arranged in conjunction with the Great Yarmouth Local History and Archaeological Society, we were delighted to have among the speakers Dr Rosemary Horrox of Fitzwilliam College, Cambridge. Dr Horrox took as her subject The Usefulness of the Pastons in understanding medieval times in England. Her lecture is one of several available on this web site.
We are always open to suggestion, new information and corrections, so please join the site through the Volunteers option. If you wish to help us develop the site, we'll be delighted to have your help; if you wish simply to lead or join in forum discussions, you'll also be very welcome.