Tudor Pastons
Sir William Paston (1479 - 1554)
Sir William Paston was a son of Sir John (d 1504) and Margery Paston, née Brews. He married Bridget Heydon, granddaughter of one of the Paston's former enemies, John Heydon of Baconsthorpe, and the couple were ancestors of all the successive Pastons. Predominant among their immediate offspring were Eleanor (1495-1557), who married the Earl of Rutland; Erasmus (1506-1538); John (1510-83), Admiral Clement (d 1597), who rebuilt Oxnead Hall; Thomas (1517-50), who married Ann Leigh, acquired major properties at Binham, Appleton, Blofield and Thorpe and started the cadet line of the family; and three others. William was educated at Cambridge University and he became a lawyer and a courtier. In 1520 William was present at the Field of the Cloth of Gold.
Dorothea Paston / Hardres (1482 - 1533)
Born after 1482 (the date of Margaret's will), she marries Christopher Hardres. They have a son, Thomas, in the period 1509/11. Her memorial brass is in Upper Hardres church in Kent, recording that she is a daughter of Sir John Paston, and showing the arms of Paston and Hardres.
Erasmus Paston (c.1506 - 1538)
Erasmus Paston was the eldest son of William Paston (c 1479-1554) and Bridget Heydon. He married Mary Wyndham of Felbrigg and is buried at Paston. His son William inherited much of Admiral Clement Paston's wealth and built the school in North Walsham, as well as almshouses and the Great Barn at Paston, which still exist. William also obtained Oxnead Hall, which became the Pastons' home.
Clement Paston (c.1508 - 1597)
Clement Paston (1508-97) was a 'pensioner' of King Henry VIII and recommended for command of one of the King's ships in 1545. He was active in both the army and the navy. In 1545 he commanded the Pelican of Danzig, a vessel of 300 tons (not the Pelican that became the Golden Hind under Sir Francis Drake). He was probably commanding the same vessel when he captured the galley transporting Baron St Blanchard from France and held him at Caister Castle. He also probably never received the ransom he demanded, but he kept the plunder of the galley. In 1559 he is described as 'the Queen's servant'. Having married a rich widow, Alice Packington (d 1608), he settled down to build a new house at Oxnead. He served in county and national roles and avoided various plots which arose at the time.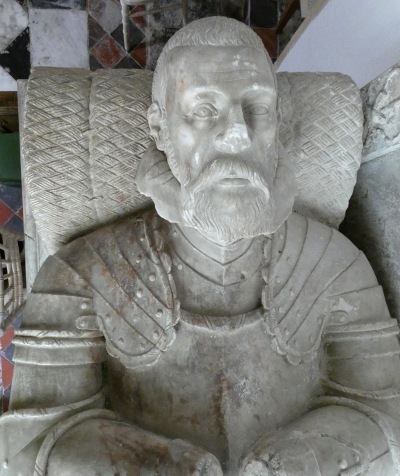 John Paston (1511 - 1575)
John Paston (1511-1575) was the second son of Sir William Paston (1479-1554) and Bridget Heydon. Their family became the Suffolk branch of the Pastons. On John Paston's tomb in Huntingfield Church he is described as 'a gentleman in birth and deed'. John married the wealthy widow Ann Arrowsmith (Moulton) of Huntingfield Hall. Their daughter Bridget (1563-1598) was described as a great beauty and a highly capable individual who supported her husband's career, the great Norfolk and Court barrister Sir Edward Coke, ancestor to the Cokes of Holkham. Bridget Coke inherited £30,000 from her father. A pair of silver flagons, inscribed with the Coke and Paston Arms, appear in the great painting The Paston Treasure.
Thomas Paston (1517 - 1550)
Sir Thomas Paston was a son of Sir William (1479-1554) and Bridget Paston. He married Ann/Agnes Leigh, from Cheshire. He was the first in the cadet line of the Paston family, being the father of Edward Paston of Blofield. Thomas is believed to have taught the Princess Mary (Mary Tudor) to play the virginal. Thomas fought with Henry VIII in France and later became a Privy Councillor and Master of the Royal Armouries and Collections at Greenwich.He acquired Binham Priory, Blofield Manor and Thorpe Hall from Henry VIII following the Dissolution of the Monasteries. In 1549, Sir Thomas Paston played a leading role in the defence of Norwich during Kett's Rebellion.
Sir William Paston (1528 - 1610)
William Paston was famed for his "noble and liberal hospitality". The family's fortune had increased in wealth and prestige by the time of his birth. In 1546 he went to Gonville College, Cambridge. He married Frances, daughter of Sit Thomas Clere of Stokesby and a few years later succeeded to the bulk of the family possessions; Oxnead was added when his uncle Clement died in 1598. He was knighted on 22 August, 1578. His public service was through a number of country responsibilities; according to Norfolk historian Francis Blomefield Sir William's income from his estates at the time of his death in 1610 was £3,376.
Sir William Paston bought land in the centre of North Walsham after the great fire there in 1600. He established his Free Grammar School school on that site and it remains in trust for use for educational purposes. His great tomb, built before his death, can be seen in the parish church of North Walsham. He built the Great Barn and the almshouses in the village of Paston; as well as the school he donated money to the cathedrals of Norwich and Bath, to Gonville and Caius College and to the poor of Yarmouth and Caister he left £10 per annum.
Frances Clere / Paston (1532 - 1610)
Frances Clere (1532-1610) was the wife of Sir William Paston (1528-1610) and daughter of Sir Thomas Clere and Anne Heigham of Stokesby. Their children included Anne, Gertrude (Reade), Alianore (Echingham) and Christopher, who married Anne Audley and continued the line.
Edward Paston (1550 - 1630)
Edward Paston was the second son of Sir Thomas Paston and the builder of Barningham Hall: he established the branch of the family that would live there. He married Margaret Berney, and they had nine children, all of whom can be seen on his memorial at Blofield Church. They were: William, who went on to live at Appleton and married Agnes Everard; Thomas, who married Mary Browne; Clement; John, who lived at Barningham; Wolstan; Edward, who lived at Horton, in Gloucestershire and married Frances Sydenham; Anne; and Katherine and Frances, both of whom joined the Order of St Benedict in Brussels as nuns. Edward was the godson of Edward VI and a patron of William Byrd as well as being a talented musician and composer himself. He was a Roman Catholic (recusant) at a time when this was far from easy. He remodelled Thorpe Hall and built a hall at Appleton, in West Norfolk.
Bridget Paston (1562 - 1598)
Bridget Paston was a daughter of John Paston and Anne Moulton. In 1582 she married Edward Coke of Godwick and Holkham. Bridget bore Edward 8 children. Bridget was considered very beautiful and very capable and she played an active role in supporting Edward's career. The £30,000 inheritance that Bridget received from her father John was a very substantial sum. The couple lived at Huntingfield Hall in Suffolk. Bridget has her own tomb near her husband's in Tittleshall Church, Norfolk. Sir Edward Coke is regarded as one of England's finest lawyers and he played a significant role in protecting individual and parliamentary freedoms in opposition to both James I and Charles I.
Lady Katherine Knyvett / Paston (1578 - 1629)
Wife of Sir Edmund Paston (1585-1632), Katherine Knyvett was a daughter of Sir Thomas Knyvett of Ashwellthorpe Hall. Edmund Paston's health was not good, and Katherine managed the family's interests, though she died before her son William came of age. The Lady Katherine Paston Letter Collection survives –- many of the letters were written to her son William at University in Cambridge.
Lady Katherine has a magnificent tomb in Paston church, sculpted by Nicholas Stone with an epitaph probably by John Donne.