A Paston Timeline
On this page you'll find a general timeline of events in the Paston family story interleaved with national and international events. We are gradually developing links and other aspects to operate with the timeline; these will be available as we progress the Paston Footprints 600 project.
For the present all dates are given using the Georgian calendar, whereas at the time of many of the events dates were in the Julian calendar. As well as being a few days different in the days of the month, the New Year fell at the end of March. Thus an event could be given in an original document as, say, 1461 but by our calendar it would actually be 1462. Added to that, the date would generally be given as the year of the monarch's reign. We have relied on the researches of modern historians for the dates we have used.
1348
June
The first known case of the Black Death arrives in England.
By the autumn it reaches London and spread throughout the country the following year. It kills around 50% of the population of England.
1356
19th September
The Battle of Poitiers.
This is a major English victory in the 100 Years War.
1379
William Winter purchases the manor of East Beckham.
1381
May
The Peasants' Revolt.
Also known as Wat Tyler's rebellion or the Great Rising, it is a revolt across large parts of England. Bishop of Norwich Henry Despencer defeats a rebel army at North Walsham on June 25th or 26th.
1392
William Paston attends the Inns of Court.
An approximate year for his first appointment in London.
1399
Henry IV deposes Richard II as King of England; Richard dies in captivity in 1400.
1403
21st July
The Battle of Shrewsbury.
The Lancastrian King Henry IV secures his position as King with the defeat of Henry "Harry Hotspur" Percy and his rebel army.
1409
John Winter buys East Beckham.
1413
William Paston I becomes the steward of courts of the Bishop of Norwich.
20th March
Henry IV dies and Henry V accedes to the throne of England.
1414
William Paston I acts as arbitrator concerning the mayoralty of Norwich.
1415
Henry V undertakes his first campaign in France.
Henry claimed a right of inheritance to lands in France through his female line; this was the third and final part of the Anglo-French Hundred Years War.
William Paston I becomes a Justice of the Peace.
His reputation grows as he becomes a JP.
East Beckham is sold to William and Joan Mariot.
25th October
The Battle of Agincourt.
An unexpected but famous victory for the English army led by Henry V. It greatly increased English morale and prestige.
1416
1417
Henry V's second campaign in France begins.
1418
The first extant Paston Letter is written.
1419
William Paston I buys the property at Oxnead.
Death of Clement Paston I
Clement, the first clearly-known Paston of the dynsasty, dies.
19th January
The surrender of Rouen.
English forces loyal to Henry V capture the city of Rouen. The siege of the city is reckoned to have lasted from 29th July 1418.
1420
22nd March
The Battle of Bauge
The Dauphin of France appeals to Scotland for help to fight the English; the English army is defeated.
21st May
The Treaty of Troyes.
With the success of Henry V's campaign, a treaty is signed which agrees that Henry and his heirs will inherit the throne of France.
2nd June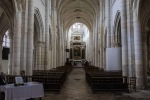 Trinity Sunday
Henry V marries Catherine de Valois, youngest daughter of Charles VI of France, in St Jean-au-Marché church, Troyes.
1421
William Paston I is made a serjeant-at-law.
William becomes a barrister of the highest rank.
William Paston appointed Serjeant at Law
6th December
Henry VI is born at Windsor Castle.
1422
William Paston I becomes commissioner of assize in the south-west.
A further role as a judge gives William responsibility in the south-west of England.
The accession of Henry VI to the English throne as a baby of nine months.
Becoming a king at such a young age leads to years of rivalry between those acting on his behalf.
John, Duke of Bedford becomes regent to the child king Henry VI.
1424
William Paston I in London. He is consulted by Norwich Corporation.
Walter Aslak attacks William Paston I in Norwich.
17th August
The Battle of Verneuil
John, Duke of Bedford, Regent of France, commands 8,000 men facing an army of French and Scots. The English army is victorious.
1426
By this date William Paston I acquires the manors of Shipden and Ropers in Cromer.
The village of Shipden is gradually being lost to the sea, as is part of the manor of Ropers.
1427
William Paston I buys the manor of Gresham.
1429
William Paston I becomes Justice of Common Pleas.
William takes on a further responsibility with the main court of common law.
8th May
Joan of Arc raises the siege of Orléans and the English army withdraws.
The new French hero inspires the French to defeat the English forces besieging the city.
18th June
The Battle of Patay, France.
A victory for the French army, which includes Joan of Arc. After this battle Sir John Fastolf is accused of cowardice, a charge he hotly denies.
6th November
Henry VI is crowned at Westminster.
Henry is seven years old.
1430
William Paston I acquires the manors of Woodhall in Great Palgrave, Sporle, and Streethall in Cressingham.
23rd May
Joan of Arc is captured at Compiègne by a group of French nobles allied with the English.
1431
30th May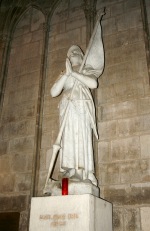 Joan of Arc is burnt at the stake.
Joan had been captured by Burgundian French and handed over to the English. A year later she is tried by a pro-English bishop and sentenced to death.
16th December
Henry VI is crowned in Paris.
As France and England fought for parts of France, as a response to Charles VII's coronation as French King in Reims Cathedral on 17 July 1429, Henry VI is crowned as King of France at Notre Dame de Paris on 16 December 1431, aged 10. He was the only English king to be crowned king in both England and France.
1433
William Paston is appointed as a commissioner to inquire into the administration of Norwich.
1434
5th September
William Mariot dies.
20th December
Edmund Winter seizes and occupies East Beckham.
1435
The Congress and Treaty of Arras.
As a result of the Congress and the Treaty at its conclusion, King Charles VII of France and Duke Philip of Burgundy are reconciled, with England left isolated.
Sir John Fastolf becomes governor of Anjou and Maine.
6th January
Mariot surrenders all evidence of title to East Beckham to William Paston.
14th September
John, the Duke of Bedford, dies.
His death during the Congress of Arras is a blow to England, with Burgundy abandoning the English cause.
1436
By this date William Paston I is legal advisor to Fastolf.
A siege of Calais.
The Duke of Burgundy attempts unsuccessfully to take the port from the English.
17th April
The French recover the city of Paris.
Since the treaty of Arras, Paris, as a Burgundian city, was in a strange position as it was supposed to be the English capital in France. A French siege of the city leads the last of the English allies to leave the city.
1437
The manor of East Beckham is seized by the Crown and granted for life to Edmund Hampden.
Henry VI takes on (or does not take on) the duties of government.
At the age of sixteen Henry officially takes on responsibility for the government of England but allows his court to be dominated by a few noble lords.
1439
Sir John Fastolf returns to England.
Now over 60, he returns from France to live at his properties in Southwark and at Caister castle.
1440
April
A siege of Harfleur.
English forces led by Edmond Beaufort, later Duke of Somereset, capture the port. It remains in English hands for the next nine years.
1441
John Mariot occupies East Beckham.
1442
John Paston I admitted to the Inner Temple
He lodges there until at least 1450
22nd March
William Paston I is granted custody of East Beckham.
Later he leases it to Simon Gunnor and William Shepherd.
28th April
Edward IV is born.
He is to become the first Yorkist king of England.
1443
William Paston I is licensed to divert roads at both Paston and Oxnead.
John Hauteyn claims the manor of Oxnead.
1444
William Paston 01 dies.
William died within the parish of St Brides, Fleet Street.
17th March
The manor of East Beckham is awarded to William Paston I.
30th March
An agreement is reached between William Paston I and copyhold tenants in the village of Paston.
28th May
Peace negotiations take place between England and France.
The Treaty of Tours of 28th May is the conclusion of negotiations between the representatives of Henry VI of England and Charles VII of France. The treaty does not last but it does result in Henry VI marrying the influential Margaret of Anjou.
1445
Agnes Paston reports that she is in dispute with vicar and villagers of Paston.
John Mariot recovers the manor of East Beckham.
Edmund Paston attends Cliffords Inn
23rd April
Henry VI is married to Margaret of Anjou at Titchfield Abbey.
1447
John Paston I becomes a Justice of the Peace.
23rd February
Humphrey, Duke of Gloucester is arrested and dies.
After his unpopular marriage to Eleanor Cobham and her arreest for sorcery, he is arrested for treason and dies three days later at Bury St Edmunds.
1448
17th February
Gresham castle is claimed and occupied by Lord Moleyns.
1449
War with France is reopened, and the French conquest of Normandy begins.
Edmund Paston dies and is buried at Whitefriars
29th January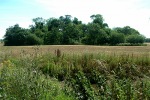 Margaret Paston is evicted from Gresham mansion by Moleyns, and the mansion is sacked.
February
Margaret Paston flees to Norwich.
November
Rouen in Normandy is taken by the French after a siege of three weeks.
1450
John Hauteyn abandons his claims to Oxnead.
John Paston I sued for trespass at Gresham by Moleyns.
2nd May
William de la Pole, Duke of Suffolk, is impeached and murdered at sea.
The Duke of Suffolk exercised considerable influence in the time of the young King Henry VI. Banished for five year, his ship is intercepted at sea and he is beheaded.
June
Jack Cade's rebellion in Kent
London is ransacked in June but the rebels are then defeated. Sir John Fastolf of Southwark and Caister, a cousin to Margaret Paston, negotiates with Cade. Cade is killed in July.
12th August
The town of Cherbourg falls to the French armies.
The town, the last English possession of the Duchy of Normandy, is handed over four months after French victory at the nearby battle of Formingy.
September
Richard marches on London.
Richard Plantagenet, the third Duke of York, marches an army on London, amongst general unrest in England.
7th September
Richard, Duke of York, returns from Ireland.
1451
Agnes Paston is in conflict with villagers of Paston about the new road and the wall.
The crisis of government in England continues.
Henry VI and Richard of York continue in dispute.
Agnes Paston is amerced six pence in the manorial court of Gimingham.
An amercement is a fine in English law.
John Paston I regains possession of Gresham.
In the latter part of the year, Richard of York writes to supporters in Norfolk seeking support for an uprising against the King.
21st August
England loses Gascony.
The town of Bayonne surrenders to the French, ending English rule in Gascony.
1452
John Paston I complains of disturbances in Norfolk.
The Duke of York leads an army to London to make the King remove the Duke of Somerset from power.
The Duke of York surrenders to the army raised by the Queen and promises not to oppose the King.
Government recovers its nerve.
Supporters of the Duke of York face the royal army at Dartford. The Duke gives way and is given a pardon.
22nd October
An army under Sir John Talbot is sent to Gascony.
John Talbot, 2nd Earl of Shrewsbury, recaptures Bordeaux and England regains control of much of Gascony.
1453
2nd July
Philip Berney dies.
17th July
Sir John Talbot is killed at Castillon.
Gascony is finally lost in the last battle of the Hundred Years War
August
Henry VI has a nervous breakdown.
The king is completely incapacitated, and others have to rule in his stead. He will regain his senses on Christmas Day, 1454.
13th October
Edward, Prince of Wales, is born.
He is born at the Palace of Westminster and becomes Prince of Wales.
1454
The Duke of York is made Protector of England.
He also makes himself Captain of Calais, removing the Earl of Somerset.
25th December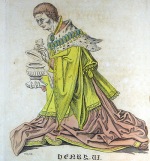 Henry VI returns to "active" life at Christmas.
The Duke of York is removed from the position of Protector.
1455
John Paston I, on Fastolf's behalf, disputes with Sir Philip Wentworth on the wardship of Thomas Fastolf.
The Wars of the Roses begin.
The various civil wars will continue until 1485.
Johannes Gutenberg produces the first Bible on the printing press he has invented.
The Duke of York is again proclaimed Protector.
22nd May
The first Battle of St Albans.
King Henry and his Lancastrians fail to hold the town again the Yorkists led by the earls of Salisbury and Warwick.
1456
John Paston I and William Paston II are among Fastolf's feoffees, entrusted with his affairs.
The return of the comet now called Halley's comet for one of its 75-year cycles.
Fastolf proposes to found a college at Caister.
25th February
The Duke of York is discharged from the protectorship after Henry VI recovers again from mental illness.
August
From September the court is at Coventry.
The court moved to Coventry, in the heart of the Queen's lands.
11th October
William Wainfleet becomes Chancellor.
Chancellor is the highest office in the state.
1457
John Paston I pays a fine to decline a knighthood.
A French force attacks the Kent town of Sandwich and burns the town.
A force of around 4,000 men from Honfleur, under the command of Pierre de Brézé, Marshal of France, come ashore to pillage the town. The mayor, John Drury, is murdered in the raid.
1458
Elizabeth Paston marries Robert Poynings.
The Earl of Warwick as Captain of Calais establishes a fleet in the Channel.
Magdalen College, Oxford, is founded by William Wainfleet.
1459
The Duke of York and the Yorkists are condemned as rebels by Parliament, which meets at Coventry.
William Paston II and William Worcester in London, discussing Fastolf's property.
23rd September
The Battle of Blore Heath results in a Yorkist victory.
Blore Heath is to the south of Market Drayton in Shropshire. The battle takes place when Queen Margaret orders her army to intercept an attempt by two Yorkist armies to link up, but a Yorkist force is victorious.
12th October
The Battle of Ludford Bridge.
At this battle the Earl of Warwick's Calais men refuse to fight their King, and Warwick and the future Edward IV flee to Calais.
5th November
Sir John Fastolf dies after reputedly making a will in favour of John Paston I.
1460
John Paston I buys quitclaim to Huntingfield Hall, Bacton, Norfolk, and petitions for the right to hold a manorial court.
A quitclaim deed is a legal instrument used to transfer interest in property.
After the Battle of Northampton, Queen Margaret of Anjou and her seven-year-old son Edward escape to Harlech castle.
The Duke of York claims the crown of England but is dissuaded from pressing his claim.
He is promised he will be King when Henry VI dies.
10th July
The Battle of Northampton.
This is a defeat for the Lancastrians, and the King, Henry VI, is captured. Artillery is used for the first time in a battle in England.
30th December
The Duke of York is killed at the Battle of Wakefield after he ventures out from Sandal Castle.
Many prominent leaders of the Yorkists were killed in the battle or subsequently executed.
1461
John Paston II is eventually elected to the Commons as a knight of the shire for Norfolk.
The Duke of Norfolk, John Mowbray II, seizes Caister Castle.
John Paston II serves in the royal household of Edward IV.
Worcester on bad terms with the Pastons.
He is in dispute with the Pastons, having received little benefit from Sir John Fastolf's will. As Fastolf's long-serving secretary, he doubtless expected to receive due reward.
John Paston I imprisoned in the Fleet.
17th February
The Second Battle of St Albans is a victory for the Lancastrians and leads to King Henry VI being released.
The Yorkist army, commanded by the Earl of Warwick and including John Paston, is attempting to block the road to London. The Lancastrian army outflanks them but does not press on to make the most of their victory by marching on London.
4th March
Edward IV is proclaimed King.
29th March
The Battle of Towton.
This is a decisive victory for the Yorkists, and Edward IV takes over from Henry VI as King. The arrival of the Duke of Norfolk and his men is a decisive moment in the battle.
28th June
Edward IV is crowned King.
6th November
John Mowbray, 3rd Duke of Norfolk, dies.
1464
John Paston I briefly imprisoned again in the Fleet
25th April
The Battle of Hedgeley Moor.
Yorkist leader John Neville, later Lord Montagu, defeats a Lancastrian army led by Henry Beaufort, Duke of Somerset.
1st May
Edward IV marries Elizabeth Woodville.
An official marriage for Edward was being arranged in France when it was announced that he was already married to widow Elizabeth Woodville.
15th May
The Battle of Hexham.
John Neville's force ends Lancastrian resistance in the north of England.
1465
The siege of Hellesdon Hall.
William Paston II is serving as a Justice of the Peace.
John Paston I imprisoned in the Fleet
John Paston II jousts on the King's side at Eltham Palace
1466
John Paston I is again in Fleet prison.
He is possibly in prison when he dies.
Anthony Woodville seizes Paston property at Norwich and Caister.
The Duke of Suffolk seizes Drayton and Hellesdon.
Edward IV accepts that the Pastons are gentlemen.
Richard, Earl of Warwick's relations with Edward IV are deteriorating.
May
John Paston I dies in London.
His body is processed to Norfolk for burial at Bromholm Priory.
1467
Probate of Fastolf's will granted to John Paston II and Thomas Howes.
1468
Fastolf's feoffees release Caister to John Paston II.
Marriage of Margaret of York to Charles the Bold of Burgundy.
Thomas Howes declares Fastolf's will falsified.
1469
John Paston III is besieged in Caister by the Duke of Norfolk and obliged to surrender.
Edward IV visits Norwich.
Margery Paston marries Richard Calle.
King Edward IV and his brother Richard of Gloucester visit Norwich.
July
Warwick captures the king.
Edward IV, captured following the Battle of Edgecote Moor, is imprisoned in Warwick Castle and then Middleham Castle. Continuing discontent forces Warwick to release him.
3rd July
Richard Calle enters East Beckham on behalf of John Paston II.
26th July
The Battle of Edgecote Moor
Edward IV's supporters are defeated by a force led by Richard Neville, Earl of Warwick.
6th November
Mortgage of East Beckham sealed between Roger Townshend and John Paston II.
1470
John Paston II acknowledges loss of Cotton and Wickham Skeith to Alice de la Pole.
Warwick and the Duke of Clarence flee to France after a failed rebellion.
They are not allowed into Calais and seek refuge with Louis XI of France.
Agnes Paston and William Paston II initiate legal action to enforce the will of William Paston I.
William Paston II has married Lady Anne Beaufort by this date.
John Paston II compromises with William Wainfleet on the disposal of Fastolf's lands, many of which pass to Magdalen College.
After Henry VI's restoration, Norfolk releases Caister Castle to John Paston II.
13th September
Warwick comes to terms with Margaret of Anjou.
He invades England with Clarence, forces Edward to flee to Burgundy and restores Henry VI.
1471
The Black Death strikes England again.
It is estimated that 10-15 per cent of the population of England die in this outbreak.
Elizabeth Poynings marries Sir George Browne.
Born Elizabeth Paston, she had been a widow for over a decade.
Margaret of Anjou returns, is defeated at Tewkesbury, and her son, Prince Edward, is killed.
12th March
King Edward IV and his brother the Duke of Gloucester (Richard III) return from exile.
They make landfall at Cromer when returning from exile but do not come ashore, going on to land on the coast of Lincolnshire.
14th March
Edward IV and his brother the Duke of Gloucester (Richard III) land at Ravenspur in Yorkshire.
14th April
John Paston II and John Paston III are at the battle of Barnet on the losing Lancastrian side.
John Neville, 1st Marquess of Montagu, and his brother the Earl of Warwick - formerly a Yorkist commander - die in the battle.
14th April
The Duke of Clarence joins Edward IV at the Battle of Barnet.
21st May
Edward IV enters London.
Henry VI is murdered in the Tower the same night.
June
Caister Castle is seized again by the Duke of Norfolk.
1472
John Paston III is out of favour with the Duke of Norfolk, but not with the Duchess.
William Paston II is a Member of Parliament.
10th December
The Duchess of Norfolk gives birth to Anne Mowbray.
1473
Walter Paston goes to Oxford University.
20th January
John Berney dies.
1474
Agnes Paston living with son William at Warwick's Inn, Warwick Gardens near Newgate
1475
Edward IV invades France, aided by Burgundy and Brittany.
He makes the Treaty of Picquigny in return for a payment and an annual pension.
1476
16th June
The Duke of Norfolk dies, and John Paston II recovers Caister.
The Duke died overnight, and his death is sometimes given as June 17.
1477
John Paston II lodges at the George Inn, Paul's Wharf, Lombard Street
Now Bennets Hill, opposite the College of Arms.
August
Clement Paston II dies by August.
1478
William Paston III begins education at Eton school.
John Paston III's son, Christopher, is born.
15th January
Richard, Duke of York, marries Anne Mowbray.
18th February
The Duke of Clarence is executed, allegedly by being drowned in a barrel of wine.
The Duke, George Plantagenet, was killed while a prisoner in the Tower of London.
1479
A further year of the Black Death.
William Paston II occupies Marlingford in defiance of John Paston II.
Birth of William Paston (1479-1554), from whom all further Pastons will be descended.
John Paston II dies and is buried at Whitefriars, Bouverie Street.
May
William Paston II is in possession of the village of Paston with the consent of Agnes Paston.
August
Walter Paston dies.
November
John Paston II dies.
1482
William Worcester, formerly secretary to Sir John Fastolf, dies.
He was also a traveller and writer of history.
1483
9th April
Edward IV, King of England, dies suddenly aged 40.
22nd June
Edward V and Richard of York and Norfolk, the "Princes in the Tower", are murdered.
26th June
Richard, Duke of Gloucester, becomes king.
He is the last Plantagenet king of England.
4th December
Sir George Browne is executed for taking part in Buckingham's revolt.
His wife Elizabeth is widowed for a second time.
1484
4th November
Margaret Paston, née Mautby, author of many of the Paston letters, dies.
1485
John Paston III becomes MP for Norwich and Sheriff of Norfolk and Suffolk.
John Paston III benefits from his association with the Earl of Oxford.
Henry Tudor takes the crown and begins the Tudor dynasty.
22nd August
The Battle of Bosworth (Dadlington). Richard III dies.
John Paston III declines the Duke of Norfolk's invitation to accompany him to confront Henry Tudor.
1487
John Paston III is knighted on the battlefield at the Battle of Stoke.
Henry VII creates John Paston III a Knight Banneret, which means he leads a company of troops during a time of war under his own banner.
15th June
Battle of Stoke.
The Battle of Stoke, the last battle of the Wars of the Roses. An unsuccessful attempt by the Yorkists to put the imposter Lambert Simnel on the throne.
1488
Elizabeth Paston is buried next to her husband, Sir George Browne, at Blackfriars, Ludgate.
1489
Settlement is reached by arbitration between William Paston II and John Paston III.
The dispute centred on the inheritance of the estates of Agnes Paston after Agnes died in 1479.
1492
Christopher Columbus "discovers" America.
1496
William Paston is buried at Blackfriars, Ludgate.
1501
John Paston III attends a royal marriage
Katherine of Aragon and Prince Arthur were at St Pauls Cathedral.
1503
16th February
John Paston III recovers East Beckham.
1504
28th August
John Paston III dies.
1509
Last of the first sequence of Paston Letters is written.
24th June
Henry VIII is crowned at Westminster Abbey.
1513
9th September
Battle of Flodden Field.
The battle of Flodden Field is fought between an invading Scots army under King James IV and an English army commanded by the Earl of Surrey. James IV was killed in the battle.
1520
Sir William Paston attends the Field of the Cloth of Gold with Henry VIII.
Sir William Paston, an eminent lawyer, serves in the Tudor Court.
1522
5th September
Magellan's vessel returns after the first circumnavigation of the earth.
Magellan's vessel, the Vittoria (or Victoria), arrives back in Spain after the first circumnavigation of the earth. Magellan was killed during the voyage.
1528
The birth of Sir William Paston, founder of the Paston School in North Walsham.
He is also builder of the great barn and almshouses in the village of Paston, Norfolk.
1529
Henry VIII begins to sever ties with the church in Rome.
1534
November
The 1534 Act of Supremacy declares Henry the "Supreme Head on earth of the Church of England".
1535
William Tyndale and Miles Coverdale are responsible for the first Bible to be translated and printed in English.
1536
The Act of Suppression is passed by Parliament.
The Act of Suppression includes provision to close all monasteries worth less than 200 pounds per annum, which includes Bromholm Priory. Sir Thomas Paston benefits from the closures, gaining the Bishop of Norwich's houses at Thorpe and Blofield. In addition, Henry VIII grants Sir Thomas Paston the Priory of Binham.
1538
Thomas Paston appointed to Henry VIII's Privy Council
1541
Thomas Paston appointed Head of Royal Armouries at Greenwich.
1547
20th February
Edward VI, son of Henry VIII, is crowned King of England at the age of nine.
The Duke of Somerset is appointed Protector.
1549
Kett's Rebellion.
Sir Thomas Paston and Sir William Paston assist in the defence of Norwich. Cannon are transported from Caister Castle to bolster the city's defences.
1550
Edward Paston of Blofield is born in the year his father Thomas dies.
King Edward VI is appointed Edward Paston's godfather.
1552
Alice Packington marries Richard Lambert
He is a grocer and Sheriff of London in 1567. They marry in St Michael Bassishaw near Smithfield.
1558
17th November
Elizabeth I becomes Queen.
Elizabeth I, a Protestant, becomes Queen of England at the age of 25 on the death of her half-sister, Queen Mary I, a Roman Catholic.
1560
15th January
Coronation of Queen Elizabeth I at Westminster Abbey.
1565
About this time Edward Paston studies at the Inns of Court.
1567
Death of Richard Lambert at St Mary Bow, Cheapside
1570
At about this time Edward Paston marries Elizabeth Lambert.
She is daughter of Richard Lambert and Alice Packington, who by this time had married Edward's Uncle, Clement Paston of Oxnead.
1582
Bridget Paston marries Edward Coke.
Bridget, daughter of John Paston of Huntingfield, Suffolk, marries the distinguished lawyer, Edward Coke, who is knighted in 1604.
1588
8th February
Mary Queen of Scots, a Roman Catholic, is executed at Fotheringay Castle in Northamptonshire by beheading.
July
The Spanish Armada threatens invasion.
In May Spain dispatches the Armada to England. It is defeated in a series of actions at sea from July to September.
28th October
Roman Catholic priests Edward Oldcorne and John Gerard are landed on Bacton beach.
They operate under cover in Protestant England.
1593
The probable date of writing of the play Richard III by William Shakespeare.
1597
The death of Admiral Clement Paston, who served under both Henry VIII and Elizabeth I.
Sir William Paston inherits the remainder of the Paston estates, including Oxnead Hall.
1600
25th June
Fire destroys over 100 buildings in the centre of North Walsham.
Sir William Paston provides support for those made homeless by the fire. He buys vacant land near the Market Place on which to build a school.
1603
On the death of Elizabeth I, King James VI of Scotland ascends English throne as James I.
1604
The opening of Sir William Paston's Free Grammar School in North Walsham.
Sir William endows the school with estates that will provide income to cover the running costs.
1605
5th November
Guy Fawkes and his fellow plotters attempt to blow up the Houses of Parliament.
1606
1st October
The title deed of Sir William Paston's school in North Walsham is signed.
1607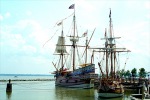 Jamestown in Virginia is established as the first English settlement in the Americas.
1608
23rd February
The contract is drawn up for the building of Sir William Paston's tomb in North Walsham parish church.
Sir William consults Sir Thomas Knevet about the design of the tomb and commissions a London sculptor to construct his memorial for the sum of £200 (around £25,000 in 21st century value).
1610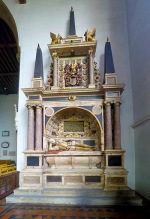 Sir William Paston dies. He is buried in the tomb he had built in North Walsham parish church.
1611
The King James Bible is completed and published.
1612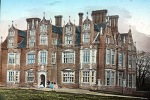 Barningham Hall is built by Edward Paston.
Edward Paston also has houses at Appleton Hall near King's Lynn and at Blofield.
1623
Pursuivants, who pursue Roman Catholic dissidents, visit Appleton Hall.
Edward Paston has a chapel for the celebration of Mass in the woods behind Appleton Hall. The Pursuivants are thwarted by a fracas involving a dog. The incident is recorded by Mary Berney.
1628
Sir Edward Coke, Lord Chief Justice, husband of Bridget Paston, presents the Petition of Right to Charles I
The Petition upholds the rights of the People and Parliament.
1631
Robert Paston, the first Earl of Yarmouth, is born.
Robert Paston is born at Oxnead Hall.
Sculptor Nicholas Stone is friend to the Pastons.
He sculpts their family tombs at Paston and Oxnead, and creates the remarkable effigy of John Donne, still visible in St Pauls Cathedral.
1638
Sir William Paston visits Italy and Egypt.
Following the death of his wife Katherine in childbirth, Sir William tours Italy and the Middle East with the son of the sculptor, Nicholas Stone. On his travels he buys many objects of great value.
1641
Robertt Paston attends Westminster School at about this time.
1642
Sir William Paston is exiled in Holland during the English Civil War.
Margaret, wife of Sir William, negotiates with Sir John Potts of Mannington Hall the amount of payment in silver plate required by Parliament for Sir William's return.
1643
25th December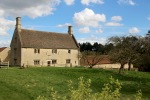 Birth of Sir Isaac Newton at Woolsthorpe Manor House.
One of the most influential scientists and mathematicians of all time, he also writes on theology and alchemy.
1645
14th June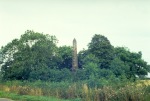 The battle of Naseby.
The battle of Naseby, in Northamptonshire, is a decisive engagement of the First English Civil War, fought between the main Royalist army of King Charles I and the victorious Parliamentarian New Model Army, commanded by Sir Thomas Fairfax and Oliver Cromwell.
1649
The execution of King Charles I.
1653
The Protectorate begins under Cromwell.
1659
The sale of Caister Castle.
The Pastons sell Caister Castle to William Crow, a money lender.
1660
The Restoration.
The English, Scottish and Irish monarchies are all restored under King Charles II.
Robert Paston rides out from London
Robert is one of those who rides out from London to greet the future Charles II on the Restoration of the Monarchy.
1663
Robert Paston is appointed a founding Fellow of the Royal Society.
At Gresham College, Bishopsgate.
1666
The Great Fire of London breaks out and destroys a large part of the centre of the city.
Robert describes a game of cricket played on Richmond Green.
1671
Charles II visits the Pastons at Oxnead Hall.
Charles II visits the Townshends at Raynham Hall, the Hobarts at Blickling Hall and the Pastons at Oxnead Hall.
1675
Robert is wounded by highwaymen in Kensington.
1676
Sir Robert Paston is appointed Lord Lieutenant for Norfolk.
Sir Robert further strains his already parlous financial position with the expensive entertainment required of the post.
1679
Sir Robert Paston is created 1st Earl of Yarmouth.
Sir Robert visits Yarmouth in a show of great pageantry and ceremony.
1683
Robert lodges at The Golden Ball, Suffolk Street.
Robert dies in London.
1688
The Glorious Revolution.
The overthrow of James II because of his religious tolerance and fears of a Roman Catholic dynasty with the birth of his son James.
1689
William III, William of Orange, becomes King.
William comes from the Dutch Republic to becomes England's King, ending the fear of a Roman Catholic revival in the country.
1694
27th July
The Bank of England is founded to act as the Government's banker.
1702
11th March
The first English language national newspaper, the Daily Courant, is published.
1707
The Kingdom of Great Britain comes into being.
1735
The Paston Letters are discovered at Oxnead Hall by Francis Blomefield.
Blomefield gains permission from the Rector of Oxnead to visit the muniment room in the decaying ruins of Oxnead Hall, where he finds "innumerable letters of good consequence in history".
1755
Samuel Johnson publishes "A Dictionary of the English Language".
1787
John Fenn of Dereham publishes his first edition of the Paston Letters.
He presents the first publication of the Letters to King George III.
1826
Margaret Paston marries Sir Henry Paston-Bedingfeld.
On condition that he incorporates her name into his, thus ensuring the survival of the Paston name.
1865
Herman Merivale publishes an article.
He questions the authenticity of the medieval Paston letters.
1866
The Society of Antiquaries at Somerset House declares the Letters to be genuine.
The Society recommends that they be purchased by the British Library where the medieval Letters remain to this day.
1875
1872-1875 James Gairdner publishes his first edition of the Paston Letters and associated research.
1942
The Correspondence of Lady Katherine Paston 1603-1627 is published.
The Norfolk Record Society publishes "The Correspondence of Lady Katherine Paston 1603-1627", edited by Ruth Hughey.
2012
The Whirlpool of Misadventures is published.
The Norfolk Record Society publishes "The Whirlpool of Misadventures; The Letters of Robert Paston, First Earl of Yarmouth, 1663-1679", edited by Jean Agnew.
2018
The Paston Treasure, Riches and Rarities of the Known World, exhibition at Norwich Castle Museum.
June
600th Paston Anniversary Festival by Paston Footprints
2021
Launch of Paston Walk and Cycle Trails