The Stuart & Parliamentary Pastons
Lady Katherine Knyvett / Paston (1578 - 1629)
Wife of Sir Edmund Paston (1585-1632), Katherine Knyvett was a daughter of Sir Thomas Knyvett of Ashwellthorpe Hall. Edmund Paston's health was not good, and Katherine managed the family's interests, though she died before her son William came of age. The Lady Katherine Paston Letter Collection survives –- many of the letters were written to her son William at University in Cambridge.
Lady Katherine has a magnificent tomb in Paston church, sculpted by Nicholas Stone with an epitaph probably by John Donne.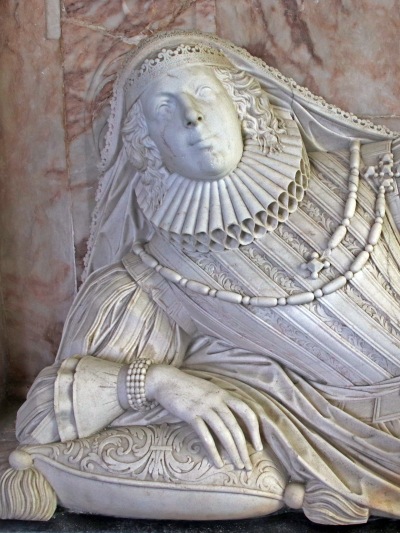 Sir Edmund Paston (1585 - 1632)
Sir Edmund Paston was the son of Christopher Paston (1554-1632) and Anne Audley. Both Sir Edmund and his wife Katherine Knyvett (1578-1629) are buried at Paston. Katherine was daughter of Sir Thomas Knyvett of Ashwellthorpe Hall.
Sir William Paston (1610 - 1663)
Sir William Paston was the son of Edmund and Katherine Paston, née Knyvett, and the husband of Lady Katherine Bertie. William was a student at Corpus Christie College in Cambridge and his mother Katherine wrote to him regularly, correspondence that forms part of the second collection of Paston Letters. Sir William developed Oxnead Hall with the help of Nicholas Stone. On the death of his wife in childbirth, William, a cultured and very wealthy man, travelled widely in Europe and the Middle East, amassing a fine collection of precious objects. He was always a royalist by inclination but accepted the status quo, with divided loyalties towards his Parliamentary neighbours and his loyalty to the Crown. William briefly retreated to Holland during the English Civil War, returning to pay a substantial fine to Parliament. After his return William lived quietly but continued to pursue his cultural interests, assisting family friend Sir Thomas Browne to discover the Roman burial urns at Brampton, across the river from Oxnead Hall.
Robert Paston 1st Earl of Yarmouth (1631 - 1683)
Robert Paston, created the first Earl of Yarmouth in 1679, was the son of Sir William Paston (1610-63). He was buried at Oxnead with his wife, Rebecca, née Clayton. Robert was a prominent supporter of Charles II, who visited Oxnead in 1671. He was an original member of the Royal Society which played a key role in the rapid advances in science during the Restoration period. Robert had an interest in alchemy which was by and large the study of chemistry. Robert completed his father's commission of the painting 'The Paston Treasure', superficially a display of the Pastons' valuable possessions but with other underlying, more complex themes. Robert Paston's debts accumulated, despite his attempts to generate income from the port of Great Yarmouth. The attempts to raise funds were largely unsuccessful, but Robert did manage to stretch the trading rights of the town of Great Yarmouth to include his proposed settlement on the other side of the River Yare.
Robert's copious correspondence, which includes many affectionate letters to his wife, form the third collection of the Paston Letters.
William Paston (1634 - 1662)
William Paston was a son of Sir William (1610-1662) and Lady Katherine Paston.
Rebecca Clayton / Paston (c.1635 - 1694)
Rebecca Clayton married Robert Paston (1631-1682), later 1st Earl of Yarmouth, in 1651. She is buried at Oxnead.
Lady Charlotte Jemima Maria Boyle / Paston / Howard (c.1650 - 1684)
Charlotte was wife of William Paston (d 1732), and was a natural daughter of Charles II and Elizabeth Boyle, Viscountess Shannon. She had formerly been married to James Howard, with whom she had a daughter, Stuarta. With William she had five children: Charles (1673-1718), Charlotte (1676-1739), William (1677-1681), Rebecca (1681-1726) and William (1682-?). Charlotte and Rebecca both had daughters but of course they did not carry the Paston name, which ceased through a male line.
William Paston 2nd Earl of Yarmouth (1652 - 1732)
William Paston, the 2nd Earl of Yarmouth, was the eldest son of Sir Robert Paston (1631-82), the 1st earl.. He lived at Oxnead Hall and was first married to Lady Charlotte Boyle, a natural daughter of Charles II. He was treasurer to the household of James II but was unable to manage his personal finances.. His second marriage was to Elizabeth Wiseman, widow of Sir Robert Wiseman and daughter of Dudley, Lord North.
William Paston succeeded his father in March 1683. Papers of William Paston's financial affairs show "an ominous interest in alchemy and mining rather than estate management"; the latter should have been his priority, given his personal debt and the family debts he inherited. He retained some influence in Norfolk politics but converted briefly to Roman Catholicism in 1687, refusing initially to take the oaths of allegiance when William and Mary came to the throne. He was twice imprisoned in the Tower of London and finally took the oaths in 1696.
In 1708 it is recorded that "The Earle of Yarmouth is as low as you can imagine; he hath vast debts, and suffers everything to run to extremity; his goods have been all seized in execution and his lands extended, so that he hath scarce a servant to attend him or an horse to ride abroad on". He left Oxnead in 1709 and thereafter lived in London. He remained active in the House of Lords and became a member of the Royal Society in 1722; at his death in 1732 his debts were massive. He left no surviving male heir, and so the direct male line of the Paston family ended.
Margaret Paston / di Conti (1652 - c.1723)
Margaret Paston was a daughter of Sir Robert (1631-1683) and Rebecca Paston. She married Hieronimo Alberti di Conti, the Venetian Secretary in London. Margaret died in Venice. New research on Margaret and her life is considered by Dr Francesda Vanke on her blog.
Edward Paston (1660 - 1713)
Edward Paston is recorded on his memorial stone at Blofield as "oif Town Barningham". He was the son of Clement Paston, who died in 1662. He was also the great-grandson of that better-known Edward who has a memorial with his wife and nine children on the chancel wall at Blofield Church. The later Edward lived at the same time that the main branch of the Pastons reached its apogee, with Robert, the 1st Earl of Yarmouth (1631-82) and William, the 2nd Earl, whose death in 1732 brought the main Paston line to an end. Edward is remembered especially because of the compliment he paid his first wife, Margaret Eyre, who came from Derbyshire. She died very young in childbirth, and he arranged for the poet laureate John Dryden to write a moving poem to her which can still be seen on her tomb in the floor of the chancel. (Edward's successor, the third Edward, was by his second wife, Jane Frampton.)
William Paston (1682 - 1711)
William Paston was a son of William (1652-1732) and Charlotte Paston. He was their second child to have been given the name William, the first having died in infancy.