A Blofield walk
Thomas Paston (1517-1550) was the youngest of the four sons of Sir William Paston (1479-1554) and Bridget Heydon. Thomas established the cadet or junior line of the Paston family at Blofield.
Thomas became one of the gentlemen of the bedchamber for Henry VIII and later Keeper of the Royal Armouries at Greenwich. Thomas lived in the former Bishop's Hall at Blofield.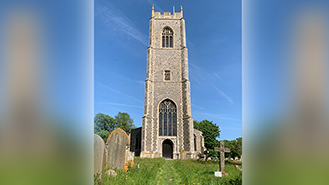 Our walk begins at the church of St Andrew and St Peter in the village of Blofield, NR13 4NA. The church itself, as Edward Paston will tell you, is well worth exploring on its own, having a substantial number of memorials, both of the Pastons and of others - including a unique medieval font and ancient benches with poppy heads.
To follow the podcast for the whole walk, use the audio control below the map.
If you'd like to listen to the whole podcast for the Blofield walk, use the controller below. The total run time is 28 minutes 28 seconds.