A Paston Walk in Norwich
Our full Norwich walk is about two and a half miles.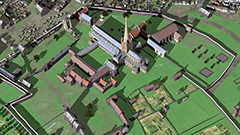 For explorers, on the ground or online. You can click on the Paston shields for more information, Paston Footprints markers for navigational assistance and the griffins for family activities. If you can't get to Norwich in reality, try using the Pegman for Google Streetview.
If you'd like fewer labels, go to the Satellite view and switch off labels. For more Norwich and Paston history, use the buttons on the left. You'll see information from the 15th century, when the medieval Pastons were writing their letters.