Walking Norwich with the Pastons
Our full Norwich walk is about two and a half miles. It focuses on places linked with the medieval Paston family. You can enjoy it here on screen by investigating the links through the markers - and of course you can head off around the streets yourself.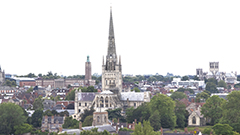 For explorers, on the ground or online. You can click on the Paston shields for more information, Paston Footprints markers for navigational assistance and the griffins for family activities. If you can't get to Norwich in reality, try using the Pegman for Google Streetview.
If you'd like fewer labels, go to the Satellite view and switch off labels. For more Norwich and Paston history, use the buttons on the left. You'll see information from the 15th century, when the medieval Pastons were writing their letters.
Norwich is a busy city, so be careful of motor traffic and of cycles. There ae some central car parks but we suggest that using Park and Ride might be the best option.
We've endeavoured to indicate some of the main features of the city in the late medival period but of course there were many changes going on all the while. For those wishing to find out more we'd recommend:
Ayers, Brian, Norwich, English Heritage (1994), Batsford
Groves, Nicholas, The Medieval Churches of the City of Norwich, Norwich HEART, 2010
Ayers, Brian, Norwich: Archaeology of a Fine City, Amberley Publishing, 2009