The Paston Roll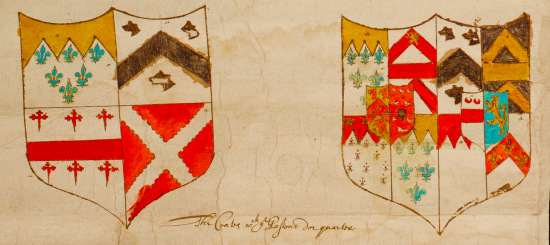 This document was created in the 17th century to show the family tree of Sir William Paston. It is known as an illuminated pedigree. Pedigrees were often used to demonstrate someone's status by demonstrating how different family members were related to a particular ancestor. In this case the pedigree is showing all the descendants (for example the children and grandchildren) of Sir William Paston, who is listed at the top of the document. This William Paston lived around 1610-63 and married Lady Katherine Bertie. They had a son called Sir Robert Paston who was born on 29 May 1631 at Oxnead, Norfolk, and died on 8 March 1683. The document continues listing Robert's wife and children and gradually moves on to list his grandchildren and great-grandchildren, and continues down further generations.
This pedigree is illustrated, which means it contains pictures. These pictures show the coats of arms of the individual people that are included. As people marry into the family, they place their own family coat of arms (their father's) beside their husband's on his shield. These coats of arms are now known as being 'impaled'. You can see the coat of arms changing as we follow the line down the side.
At the bottom of the document are two coats of arms. One has been divided eight times, the other has been quartered. This is called marshalling. You will notice that the coat of arms on the right contains two smaller coats of arms in the middle. If the woman's father has no sons, she becomes a heraldic heiress when he dies. She may then place her own family shield in the middle of her husband's shield, which is known as an escutcheon of pretence.
The original document is kept at the Norfolk Record Office, at the Archive Centre in Norwich, and it is available for viewing there. The reference number is MC 662/23.